Vernissage + Livecreation neuer Arbeiten durch die Künstlerin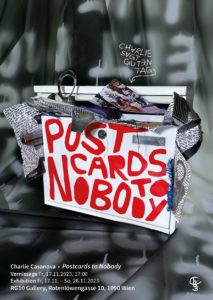 Vernissage Fr, 17.11.2023 17:00-20:00
Eventrahmen: Rotlicht Festival 2023
RG10 Gallery,
Rotenlöwengasse 10
1090 Wien
Die Künstlerin
Charlie Casanova
dokumentiert während ihrer vielfältigen Tätigkeit In/auf/hinter den Bühnen der österreichischen und deutschen Kulturstätten alltägliche Szenen, einzigartige Momente, für dem normal Betrachter versteckte Orte und vor allem die Vielfalt der künstlerisch involvierten Menschen.
Diese Aufzeichnungen, geschaffen mit Ihrer Olympus Miu / Nikon FE Kamera und teilweise bereits antiken abgelaufenen 35mm Farbfilmen, erhalten mit Ihren einzigartigen Handzeichnungen zudem weitere Bilder, Anspielungen und Interpretationen.
Die auf diese Art angereicherten Hybriden Kunstwerke zeichnen damit einzigartige Momentaufnahmen der Kulissen und Kollisionen des theatralischen Kunstbetriebs.
During her diverse work in/on/behind the stages of Austrian and German cultural venues, the artist
Charlie Casanova
documents everyday scenes, unique moments, places hidden from the average viewer and, above all, the diversity of the people involved in the arts. These recordings, created with her Olympus Miu / Nikon FE camera and some antique expired 35mm colour films, also receive additional images, allusions and interpretations with her unique hand drawings on the prints.
The hybrid works of art enriched in this way, draw unique snapshots of the backdrops and collisions of the theatrical art world.
Vernissage: Fr, 17.11.2023 17:00-20:00
Ausstellungsdauer: Fr, 17.11.- So, 26.11.2023
RG10 Gallery
Rotenlöwengasse 10