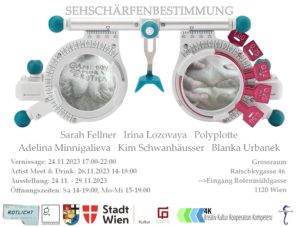 Who:
Sarah Fellner
Irina Lozovaya
Polyplotte
Adelina Minnigalieva
Kim Schwanhäusser
Blanka Urbanek
When:
Vernissage: 24.11.2023 17:00-22:00
Artist Meet & Drink: 26.11.2023 14-18:00
Ausstellungsdauer: 24.11. – 29.11.2023
Öffnungszeiten: Sa 14-19:00, Mo-Mi 15-19:00
Where:
Grossraum
Ratschkygasse 46 ->
Eingang Rotenmühlgasse
1120 Wien
What:
Die sechs ausstellenden KünstlerInnen etablieren mit Ihren Arbeiten, neue lichte Ausprägungen, der zumeist von alten Herren
geprägten künstlerischen Körperfotografie. Sie brechen dabei verkrustete Strukturen auf, inkludieren neue
gesellschaftskritische Aspekte, interpretieren klassische Motive neu, erarbeiten sich neue Möglichkeiten und Formensprachen. Sie sind teil der weiblichen kunstschaffenden Generation, die neue Tatsachen schafft.
The six exhibiting female artists establish through their works, bright new expressions in the art section of artistic body photography, which is otherwise predominately characterized by old men. In doing so, they break up encrusted structures and include socially critical aspects, reinterpret classic motifs, develop new possibilities and formal languages. They are part of the female artistic generation that creates new inclusive facts and innovates tradition.